Events
Join a TimeBanking 101 Orientation
If you are interested in joining or starting a TimeBank an orientation is a great place to start, orientations are also great if you are already a TimeBank member but would like a refresher.
Our usual TimeBanking 101 Orientations are the first Thursday of the month at 5:30 PM, so the next two are June 2 and July 7 at this Orientation Zoom room. It would also be helpful to us if you could fill out this short orientation registration ahead of time.
Michigan Alliance of TimeBanks Learning Circle meetings
Generally on the 1st Saturday of each month (barring holidays), 11am-1pm. These potluck meetings are for TimeBank coordinators and those interested in learning about TimeBanking.
June 2022 Meeting: We will meet on June 4 in person at Bridging Communities in Detroit (6900 McGraw) or over Zoom from 11 AM to 1 PM. Those in person are encouraged to bring a potluck dish to share. We will wear masks except when we are eating or drinking. We will be talking about Event Planning.
No July Learning Circle- INSTEAD…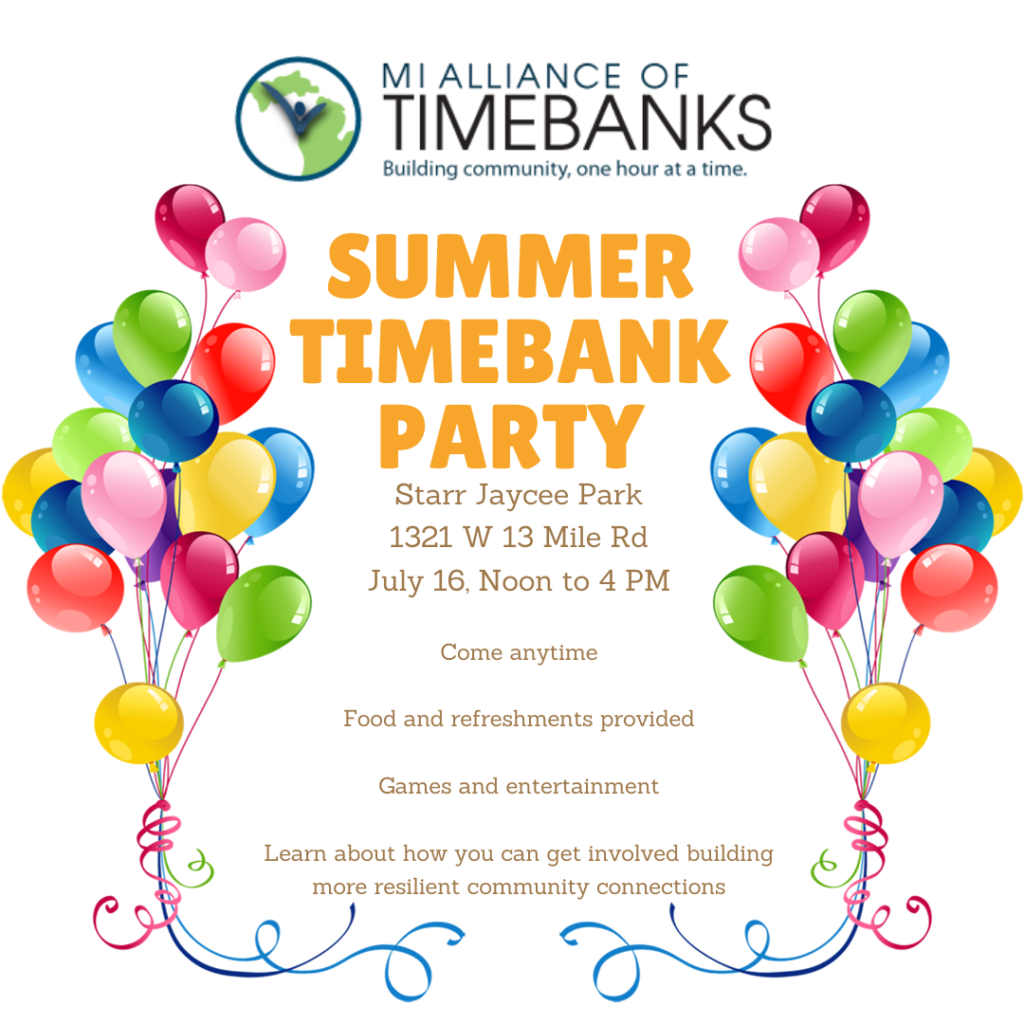 Join the MI Alliance of TimeBanks on July 16 any time between noon and 4 PM for a celebration! Join us for food, refreshments, entertainment and games. A great opportunity to learn about all our member TimeBanks, make new friends, and get involved. All are welcome. We will provide grilled food (including vegan options) and a dessert- we encourage folks to bring a side dish if they can.
---
"TimeBank offers us each an opportunity to use our talents to help our neighbors and rebuild the sense of community spirit." –Stephanie Carroll, Coordinator of Community Relations & Legislative Affairs, City of Auburn Hills
Our Mission
We are an umbrella organization linking and supporting TimeBanks across the state of Michigan. We help individuals, organizations and communities establish and run TimeBanks.
Building Community
For every hour you spend doing something for someone in your community you earn one hour. Then you have an hour to spend on having someone to do something for you. It's that simple.
Donate
Over the last two years the importance of community connections and mutual aid have become more obvious than ever. You can support us by donating to our fundraiser for 2022 here.