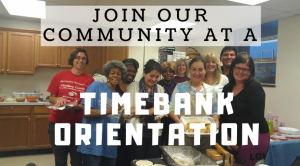 TimeBanking 101 Orientations are for:
People who want to join an existing TimeBank but still need to do an orientation
Members of TimeBanks who need a referesher on using the hOurworld software
Michiganders interested in TimeBanking who want to learn more
We hold TimeBanking 101 orientations every first Thursday of the month at 5:30 PM in our orientation zoom room.
If you are part of a group that is interested in learning about TimeBanking you can also reach out through that e-mail and we can set up a workshop specific to your needs and interests.
It isn't required for you to register ahead of time for an orientation but it does help us to know who is coming.